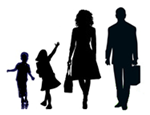 The Apartment Matchmakers
LONDON - PARIS - VANCOUVER - FRANKFURT - MEXICO CITY




Juan and Laura were born and raised in Mexico City with IT and customer service background.

After moving to Vancouver Juan started working with Julia of The Apartment Matchmakers on various marketing projects and building The Apartment Matchmakers brand.

In 2013 Julia asked Juan and Laura to come on board and run Mexico City Serviced Apartments.