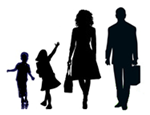 The Apartment Matchmakers
LONDON - PARIS - VANCOUVER - FRANKFURT - MEXICO CITY




I am the apartment matchmaker. I know people, I know accommodations, and I know how to match the two.

I provide personal, passionate advice based on my years of experience in the travel industry and my firsthand knowledge of life in London, Paris and Vancouver. I care about my clients and will never send you anywhere I haven't been, stayed, and loved.

The Apartment Matchmakers deals in more than just apartments! We do accommodations for any length of stay-in:


Exquisite waterfront houses
Luxury hotel suites
Fully furnished apartments
...and everything in between

Our spaces are always beautifully furnished and well serviced. We can also arrange office space or equipment storage as needed. My strong relationships and high volumes of business with management companies mean I can find you accommodation cheaper and with more perks and upgrades than you can get yourself. Best of all, my clients don't pay any extra fees for my services. I work with your budget to get what you need.

Reliable. Timely. The best prices and amenities. Call me today!